The advice given by a CEO when being interviewed by the journalist of Public Radio International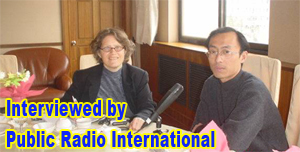 | As we know, the purpose of most foreigners who come to work in China is to experience Chinese culture, to learn about Chinese customs, and to travel around. Then how to find a satisfactory job and have a good time in China? Now, we invite the CEO of Angelina's ESL Cafe, to answer the questions we are concerned about and give us some beneficial advice.

| Q: Advice on when to apply:
| A: In China, a new academic year in most schools starts at the beginning of Sept. and ends at the beginning of July the next year, with a winter holiday which seperates it into two semesters. So at present it is the most crucial period of hiring foreign teachers for schools, and is also the period when most foreigners come to apply. As a result, the later you apply, the more competitors you will have and the less vacancies are available. So Apply as early as possible.

| Q: Advice on which city to work in:
| A: It seems that most foreigners are only familiar with several big cities in China, like Beijing, Shanghai, Guangzhou, and focus on jobs in these cities. As a result, there are more applicants and competition there, which leads to a relatively lower salary because of the much higher living cost than that in other cities.
Advice: If you don't have any special reasons to work in big cities, it would be a better choice to work in a relatively smaller city, where the salary is almost the same as that in big cities but the living cost is much lower, and what's more, the scenery is usually more beautiful and the local people are more friendly.
Foreign Oral English Teachers at Tian'anmen Square


| Q: Advice on salary:
| A: It is believed that the salary in China is quite low, the purpose of most foreigners coming to work here is to experience instead of earning money. Currently, the salary in an ordinary public school is 4,000-5,000RMB per month (500-625 U.S. dollars per month, while an ordinary Chinese teacher's salary is about 2,000RMB per month), but the offer we provide will supply you with free, good-condition accommodation, and delicious Chinese food is very cheap, so the salary is enough for living and traveling in China .
Advice: You may be disappointed if you came to China just for money. Working in China you may not earn much money, but you could experience the special Chinese culture, enrich your experiences and afford your travel in China with your salary. It is indeed a great plan.

| Q: Advice on the type of job:
| A: Currently, most foreigners in demand in China are English teachers, and these offers are mostly provided by schools. Schools are classified into public schools and private schools. A few private schools promise a high salary in advertisements, however, after having worked there you may find out that a few private schools couldn't arrange a Z or F visa for you to work in China, and it would be difficult to get the entire salary they promised before, for reasons that they don't take in enough students or the quality of you classes is not good enough. And of course, it is illegal to wok in China without a Z or F visa, while in public school, there is a Foreign Affairs Office that will assist you in your work and daily life, provide better accomodation for foreign experts, and the salary is paid entirely according to the contract. Moreover, there won't be too many classes, and you could enjoy all the holidays set by law as well. Of course, these public schools will offer you Z or F visa and Certificate of Foreign Expert.
Advice: Like most people, try to apply a job in public schools. It is true that not all private schools have a poor credit, but before accepting invitations from any employer, you should be recommended by a foreign teacher who has worked there, or have a perfect contract with them.

| Q: Advice on how to choose a reliable agency in China:
Pick up Foreign Expert at the capital airpart

| A: Why do many schools would like to recruit foreign teachers by agency? The reason is that recruiting English teachers is a very complicated process, which needs things to connect immediately and confirm too many details. There are numerous other things to deal with, so the staff of Foreign Affairs Offices prefer to spend time on assisting foreign teachers working in the school. As a result, it is very convenient to consign recruitment to Angelina's ESL Cafe, which has the best public reputation with its seven year long professional history. The staff of schools is limited, so they can't respond to the same questions of unqualified applicants individually by telephone and Email. Therefore, they would like to put out recruitment information together with the agency. We assist more than 400 schools to recruit over 1200 foreign teachers every year. As we know, some foreigners would like to contact schools directly without an agency, and it is true that a few small agencies cheat foreigners and schools.
Then how to recognise the tricks of these agencies?
If the contact information of the school in the advertisement is Email, without a telephone number, address, or the website of the school, then it is possible that the advertisement is put out like that because they know you want to contact the school only. However, schools that want to contact foreign teachers prefer to leave different contact methods, so that applicants could find out more information. Don't trust this kind of advertisement, in which the information, including treatment and conditions, may not be true. On arrival, you may find that the person you contacted has disappeared, and that treatment isn't at all the same as promised in the ad. Find out if the agency cooperates with many schools.
In China, the agency that has good credit always cooperates with a lot of schools, and information of different schools could be found on the website of the agency. Moreover, as to any question you ask, the agency will answer it by telephone, email or MSN in time. If you couldn't find details of different positions from the advertisement and website (for example , the requirement of different positions, the treatment of applicants, an article and pictures of the school and a sample of the contract etc), it is suggested that you confirm the situation, and sign the contract by fax in advance. Everything in writing is better.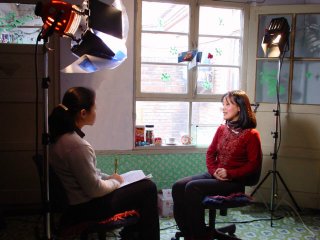 Interviewed by Beijing TV

A good agency will be more familiar with the requirement of school than you. We will arrange a relatively good position, according to the strength of applicant. Moreover, you could apply to 5 positions at once, and we will give the applicant a definite answer or suggestion in a very short time.

| Q: The basic requirements for applying to work in China:
| A: The basic requirement of most public schools is for the applicant to have a bachelor degree, and come from a country whose native language is English. It would be better that the applicant's age is between 20-60 years old. And those who have a TEFL certification will be prefered. If the applicant doesn't have a TEFL certification he could study the TEFL courses in China, and the certification can be gained after 7 days. Also, we could help those who don't have a bachelor degree to get a TEFL certification in Beijing, Jilin and Guangdong and arrange a better job for them.
It is not necessary to worry that you know nothing about Chinese, and even that you don't know how to use chopsticks. As an English teacher most school want you to offer a complete English environment, furthermore, in schools, the staff in Foreign Affairs Offices, and Chinese English teachers can speak English (maybe including your Chinese students), who will assist your work and daily life. Actually, as long as you come from a country that speaks English or your English is good enough that you are capable of being a good English teacher, you could apply whether you have teaching experience or certifications or not. Of course, during the time you work in China, you must follow Chinese laws.

| Q: What are the advantages of applying for jobs in China via Angelina's ESL Cafe?
| A: We provide over 1000 Full-time job vacancies at about 400 schools every year,and more part-time English teachers needed around China. We and the schools will provide you a Certificate of Foreign Expert; Round trip air ticket; free, nice, well-equipped apartment; RMB 4,000-20,000 per month; one-month paid holiday and other allowances. We also offer you Humanistic recommendations and consideration; timely responses; most useful suggestions; tracking report on application process; as the largest agency in China, Angelina's ESL Cafe serves only serious applicants and Employers! Of course, all of our services are free to any applicant!
Have more questions? Here please!

Team of Angelina's ESL Cafe-Foreign Affair Office