Jiaxing Nanhu International Experimental School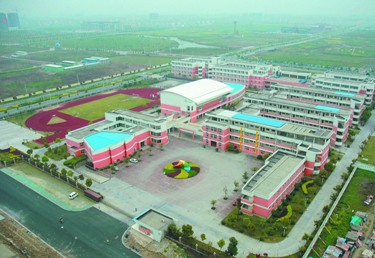 The Nanhu International Experimental School is located in the city of Jiaxing which is considered as one of the most suitable cities for living in China and is close to Shanghai, Hangzhou, and Suzhou.
The Jiaxing Nanhu International Experimental School was organized in April, 1998. It¡¯s the first private corporation management that is government owned school. In 2002 we started using the BOT system to finance and rebuild our school.
The school follows the philosophy that "A modernized school, with a bright future". The rooms inside the buildings have a certain Asian flavor to it, as well as global distinguishing features. It¡¯s a top notch school.
There are three main strategies which help the school to be more successful and more developed. First, we find many ways to strengthen the teachers' talents. Second, we believe in providing excellence service in order to maintain and advance the school's great qualities. Third, our school develops the special courses in order to create an outstanding school.
The school is over 50000 square meters large and has a floor space of more than 30000 square meters. The environment of the campus is tranquil. It resembles the botanical garden. The buildings complex designs and leisure space gives the school its own uniqueness. The campus¡¯s attractions differ from many other schools in the county. It has playgrounds, an indoor swimming pool, a tennis court and many other sports related features. Furthermore, it has a 24 hour internet access, a patrol system after curfew and so on. Since we have all these modernized technological devices, our school¡¯s education level is obviously outstanding.
The school has 40 classes and one hundred teachers. 100% of all the teachers their have acquired at least a college level degree. 70% of the teachers have been recognized with outstanding teaching awards. The school believes that education, teaching, and social skills, are three main life factors. Based on these three factors, our school has already demonstrated a nearly perfect and highly effective work in progress.
The school believes that teaching science and research makes a promising school, so we insist on educational reform, educational experiments and innovation. Among many other competing schools, our school also entered in a ¡°contest¡± requiring the study of two factors. Our school received a first place state wide achievement award for our presentation. Because of this, the Zhejiang province announced that our school is a basic science research foundation. It also received a Jiaxing city award for science research and development.
After many years of hard work, the school finally excelled in the following: English teaching, moral education, writing, tennis and art. All these characteristics made the school stand out from above the rest and are noticed in the city, the province and the world.
The Nanhu International Experimental School might be young, but the school has a great deal of determination. We soon hope to become recognized internationally as a great school with outstanding features and excellent qualities. The top schools in the world are our inspiration and we hope to one day become close and maybe even greater than them.
Jiaxing Nanhu Experimental Primary School
School Type: Private
Education Level: Grade 1 to 6
Class Size: 36 students
Teaching Subjects: ESL
Position Opening: 1 ESL Supervisor and 4 ESL Teachers
Teaching Hours: 20 classroom hours per week
Qualification:
Native English Speakers from American, Canada, England or Australia
Bachelor¡¯s Degree and up with TEFL/TESOL certificate
Chinese school working experience preferred
Accommodation:
¡¡¡¡The School will provide the Instructor with a private, clean, modern, air-conditioned and heated one-bedroom apartment on campus. Each apartment is fully furnished and includes a separate bedroom, living room with TV, bedroom with bedding, kitchen with fridge, stove, microwave and dishes, and a private bathroom. A telephone, washing machine, bottled water dispenser and Internet hookup are in-suite. (Calling cards may be purchased for long distance calls.) The Instructor is responsible for the telephone service fee in the apartment.
Benefits:
Supervisor: CNY 8000 per month plus CNY11000 contract completion bonus
Teachers: CNY 7500 per month plus CNY5500 contract completion bonus
1 returns ticket per contract year
CNY 2200 travel bonus per contract year
Paid accident insurance from AIA
The school health clinics will provide basic non-emergency medical services at no cost to the Instructor. Routine prescriptions can be filled through the school health clinic at no cost to the Instructor
Shanghai airport pick up and drop off
Training and Support:
Teacher training and orientation by ESL experts will be provided 1 week before the school year starts
Curriculum and supplemental materials provided
Teaching plan provided
On line teaching support provided on regular basis
Weekly meeting with Chinese English teacher to review the previous week and plan for the coming week
Please send your application to Jessie@anesl.com
Website: http://61.153.49.74:8002/default.asp
Nanhu International Experimental School
If you are interested, you could also send your resume,copies of degrees, passport and general photos to E-mail: HR@anesl.com