School: Shanghai Jazz English Training Institute
¡¡¡¡Address: No. 540 South Shan Xi Road, Shanghai 200031, China
¡¡¡¡Tel: +8610-51663658 Cell Phone:+8610-51663658 Fax: +8610-51663658
¡¡¡¡E-mail: Jessie@anesl.com
Position Description:
School Type: Private
¡¡¡¡Education Level: English Training Institute
¡¡¡¡Students Age Level: 4-15
¡¡¡¡Class Size: 25-30
¡¡¡¡Teaching Subjects: Spoken English(Children are mostly between ages4 and 15)
¡¡¡¡Science, Mathematics, History, Geography and Arts( Students are mostly between ages 11 and 15 at Jazz¡¯s partner primary or high schools)
Salary: CNY 5,500 ~ 8,000 depend on your experience and education background
¡¡¡¡Method of Payment: Cash
¡¡¡¡Salary Date: 30th per month
Working Days: 5 days per week
¡¡¡¡School Time: 8:00 --- 17:00
¡¡¡¡Teaching Hours: almost 21 classroom hours per week
Academic Year:
The first semester: from September to January
The second semester: from February to June
Additional Responsibilities:
English Corner ¡Ì ( The teacher will get extra pay for overtime work. )
Others: Maybe the teacher has to work on Saturday or Sunday ;
She or he can get extra pay if the work load is over 21 classroom hours per week.
Facilities: office ¡Ì computer with broadband internet access (free) ¡Ì multimedia classroom ¡Ì Unused tapes ¡Ì recorder ¡Ì printer ¡Ì copy machine (available on request) ¡Ì Scanner (available on request) ¡Ì textbooks (available on request) ¡Ì
Holidays: Total 11 days as designated by the Chinese Government,?
¡¡¡¡About three-week off for Winter Vacation (She or he can get extra pay if teach in winter school)
Accommodation
¡¡¡¡Location: near the campus
¡¡¡¡Accommodation type: Apartment (about 40~50squ.m., no roomates)
¡¡¡¡Estimated Travel Time to School: about 15 minutes by walk or bus
¡¡¡¡Facilities: kitchen¡Ì TV¡Ì washing machine ¡Ì refrigerator¡Ì air-conditioning¡Ì bathroom with hot water ¡Ì furniture¡Ì telephone¡Ì broadband internet access (covered by the teacher, CNY130/month, CNY1500/year) ¡Ì
Benefits
¡¡¡¡International flight tickets: Round trip for 10-mon contract (up to CNY7,000)
¡¡¡¡Use of water, electricity and gas: The school will afford CNY150 per month

¡¡¡¡Travel Stipend: CNY 1,000 paid at the completion of one semester of teaching for 10-mon contract
¡¡¡¡Medical Care: The school affords the accident insurance from AIA.
Location of the province:? East China
¡¡¡¡Community information: in the city center
¡¡¡¡The nearest big city: Hangzhou,Nanjing,
¡¡¡¡The nearest airport: Shanghai Hongqiao Airport, 5km
¡¡¡¡The nearest railway station: Shanghai South Railway Station, 5km
Bus line running in the area: West Jianguo Rd; Yongjia Rd, No. 17 / 24 / 41 / 96 / 786
¡¡¡¡Hospital / Clinic: Ruijin Hospital, 0.5km
¡¡¡¡Gym / Entertainment: Luwan Gym, 0.5km
¡¡¡¡Shops: Parkson Department Store
¡¡¡¡Bank: Commercial and Industrial Bank, Bank of Shanghai, Agriculture Bank, Bank of China
¡¡¡¡Post Office: Fuxing Zhong Rd, West Jianguo Rd

School Description
New Beat Jazz English Training Institute, Shanghai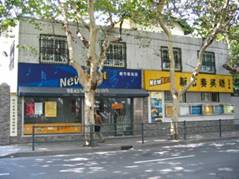 Shanghai Xu Hui District Jazz English Training Institute was founded in October, 2001. The content in both the hardware and software of the institution reflects the philosophy and concept of the New Beat English Learning System which encompasses the IQ, EQ & VQ components. The New Beat English Learning System is unique in its revolutionary approach to learning. The "New Beat English Club" is an integral part of the Shanghai Jazz English Training Institute. It creates an opportunity for consolidation of learning through English Conversation with native speakers. Through specially designed activities, students of all levels and ages can learn under a relaxing & fun filled atmosphere, unlocking their true learning potential. By combining ¡®learning¡¯, ¡®application¡¯ and ¡®entertainment¡¯ in one process, students can experience a breakthrough in English Learning as well as enhancing quality of life.
Mission Statement
Our mission is to promote quality English Language teaching and learning in China utilizing an innovative and interactive approach and a pedagogy that integrates the development of IQ (Intelligence Quotient), EQ (Emotion Quotient) and VQ (Virtue Quotient) in the life-long learning process of each individual characterized by a focus on moral education, bilingualism, music and Art.
Curriculum and Management
The NewBeat English Series: holistic and integrative education through the development of IQ, EQ and VQ with music and arts as the inspiring elements.
Supports and Resources

Our full time foreign teachers come from various native English speaking countries including USA,Canada and Australia. The recruitment of foreign teachers by our institution is under the approval of the City Education Bureau of Shanghai and properly filed under the City Foreign Experts Bureau¡¯s administration system as required.
Every foreign teacher is teamed up with a Chinese teacher who acts as facilitator throughout the teaching process.
According to the development of our students, demonstration classes for parents will be held so that families can understand the educational process and can therefore offer meaningful feedbacks and supports.
A good language environment allows our students to actively practice their spoken language skill.
Accomplishments

The filming of the international documentary ¡°The Leap of the Giant Dragon¡± by Holland VPRO TV on location at Shanghai Jazz English Training School of the NewBeat English Learning System in 2004 March 24th. This event was arranged by the China National Broadcasting Bureau and the Radio, Film and TV Bureau of Shanghai Municipality.
Pacific Rim Institute for Development and Education (United Nations Non-Governmental Organization with Special Consultative Status) awarded ¡°The NewBeat English Learning System¡± the Certificate of Accreditation in Recognition of its Outstanding Achievements in Developing Newbeat English Learning System fostering Intelligence Quotient, Emotion Quotient, Virtue Quotient and its Commitment to the Highest Standards in the Field of Education.
Awarded the ¡°Leading Organization 2002-2003 honor and the ¡°Leading Organization 2003¡± honor by the Shanghai Xu Hui Civil Affairs Bureau and the Shanghai Xu Hui Education Bureau respectively.
Evaluated Five Stars in Educational Quality by the Shanghai ¡°For Our Children¡± magazine, a nation wide monthly publication.
¡¡¡¡The New Beat English Children Singing Choir of over 100 students was invited to perform for a gathering of national and international guests participating in the 5th International Seminar on Ethic Development Conference held in China in July, 2005.
¡¡¡¡If you are interested, you could also send your resume,copies of degrees, passport and general photos to E-mail: HR@anesl.com