| | | |
| --- | --- | --- |
| | Xiamen University | |
Xiamen University- One of China's key comprehensive universities...
Xiamen - A beautiful garden on the sea, the most pleasant city in China...

Dormitory Buildings
JiaGeng Buildings for offices & classrooms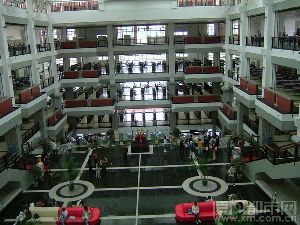 Library on Zhangzhou Campus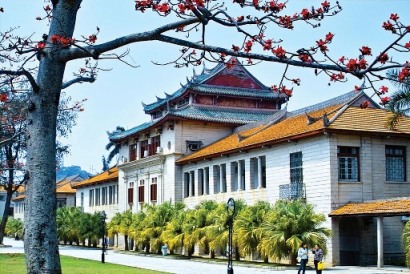 QunXian Buildings
Brief Introduction
Xiamen University was founded in 1921 by Mr. Tan Kah Kee, a well-known patriotic overseas Chinese leader. It was the first university in China founded by an overseas Chinese. At present it's the only key comprehensive university directly affiliated with the Education Ministry in any of the five Special Economic Zones and is one of China's higher-level universities designated for the state key construction of the "211 Project" and the "985 Project". As a result of over 90 years of construction, Xiamen University has become a first-class comprehensive university in China equipped with a strong team of faculty and staff, offering a complete range of programs of education, and exerting extensive international influence.
Institutions
With its 28 colleges and graduate schools, including 45 departments and more than 80 research institutes, Xiamen University has become a comprehensive university offering a fairly complete range of education programs.
Faculty
Xiamen University has a strong team of around 5,000 excellent and innovative faculty and staff, including more than 2,300 full-time teachers, of whom 1,400 are professors and associate professors. In recent years, Xiamen University has attached great importance to introducing high-level scholars to reinforce its faculty and staff and to strengthen the research group. Nowadays, more and more leading professors, eminent scholars and highly potential young researchers have come to work at Xiamen University.
Students
The university now has a total of over 35,000 full-time students on campus, including 20,195 undergraduates, 12,213 master students, 2,023 doctoral students, of whom over 1200 students come from overseas. In 2005, Xiamen University received a straight-A score in the undergraduate-level Teaching Appraisal organized by the Ministry of Education.
Campuses
This university has an area of 524.5 hectares, located across the Xiamen bay, and set amidst picturesque scenery, with its campus running along the seashore at the foot of mountains. It is popularly acknowledged as one of the most beautiful campuses in China. The university has an excellent environment for teaching, living, and bringing up talents.
There are two major campuses currently in use: Xiamen Campus and Zhangzhou Campus. All of the undergraduates stay and study on Zhangzhou campus for their first and second years and move to Xiamen Campus for the third and fourth. All of the postgraduate students stay and study on Xiamen Campus. Zhangzhou Campus is situated on the outskirt of Zhangzhou City, facing Xiamen across a strait of about 3.5 miles wide. It takes about 1 hour to travel from Xiamen Campus to Zhangzhou Campus first by school bus, then ferry and school bus again. School buses and ferries run regularly to meet class hours from Monday through Friday.
Xiamen University is now making great strides towards its goal of "building a high-level university well-known both at home and abroad."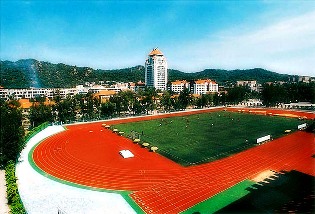 Last Quarter (Yanwu) Playground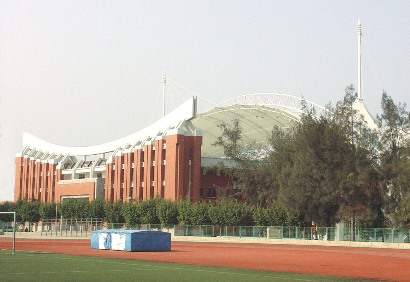 Qingming Swimming Pool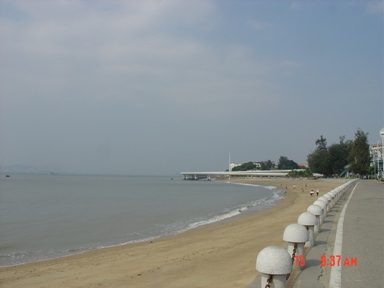 Baicheng Seashore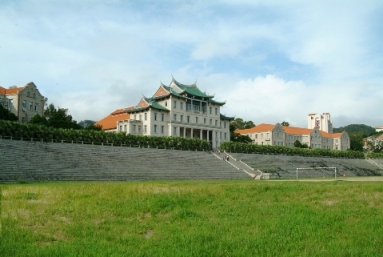 Jiannan Auditorium Complex and
First Quarter (Shangxian) Playground
Payment Standards for All Positions:
Basic Salary:
5000/5500 for BA degree holder
5500/6000/6500 for MA degree holder
6000/6500/7000 for doctoral degree holder
depending on years of teaching experience.
Housing Allowance: RMB 1500 per month. Two weeks of temporary stay in the Guesthouse on the main campus can be offered for free to new teachers upon first arrival if needed.
Lunch Allowance: If you have full attendance in the pervious month, you'll be offered RMB440/month the next month, but it's not available for March and September, which is usually vacation.

Airfare: For one school year contract,it is up to RMB8000(before tax), For one semester contract, it is up to RMB4000(before tax).

Other Welfare:Free medical check once per year; no fees for application for Foreign Expert Certificate and Residence Permit; parties for all foreign teachers in major holidays; a possible free trip for all foreign teachers.
Documents Required:
CV
Copy of Passport Photopage
Copy of Degree Diplomas
It's suggested that you send the above documents to the contact person of each position directly. You can also send it to the recruitment specialist at Personnel Office, Xiamen University.