Job Opportunities
English as a Second Language(ESL) in China
¡¡¡¡There are some positions, Teaching English as a Second Language in China, opening each year for native speakers of English at Excelliance Corporate Training Consultancy,ShenZhen City,GuangDong Province, P. R. China.
Background of Excelliance

Excelliance is a young company founded in 2005 but very quickly it has established itself as a leading provider of tailor-made training courses in Shenzhen and beyond. It has developed an extensive needs analysis system that surpasses its competitors, and its insistence on only using highly qualified teachers has ensured that it maintains a high repeat rate. Teachers are fully involved in the testing, needs analysis, course design and implementation. It draws on an incredible database of resources.

It has in a few short years serviced some of the largest companies in China including Mattel, IBM, SZ Telecom, Hasbro, TCL, Walmart, Mindray, Lexmark, SGS and a host of other companies in the field of electronics, IT, toy, clothing, sports equipment and many more. It is located in the heart of downtown Shenzhen near the Hua Qiang Lu subway.

Mission state of Excelliance

Excelliance aims to be the leading provider of tailored corporate training in China. Our team works closely with clients to ensure that we not only meet, but continually push standards of excellence in all that we do. As a result, our quality establishes an industry benchmark which drives our success. Excelliance stands for ¡®excellent alliance¡¯ between our team and our clients.

Company Values

For our clients, Excelliance is dedicated to being a reliable, professional, yet fun working partner in developing and delivering customized English training programs to your employees. We listen to your needs, and those of our students to ensure our efforts are always aligned with your needs. Excelliance takes pride in our treatment of employees. ¡®Good employees bring good results¡¯ is a deeply held core value of management. Our operating procedures and expectations are clear so employees are never surprised. In addition, we also aim to pay our staff higher than our competitors, and give them the career planning needed to keep talent in our organization so they can grow with us.

---

Recruitment

We are always looking for exceptional individuals to join our team.? Please see our list of vacancies at the moment and feel free to contact us for any additional information. We welcome a range of recruits from a variety of walks of life as long as they show responsibility and integrity towards the EFL profession. Please contact recruit@anesl.com to apply for a position or to ask for more details.

---

Full time Trainer

Excelliance, a leading provider of tailor-made company training, is currently seeking trainers to work full time in Shenzhen. Prospective recruits would be responsible for developing course material and conducting training in business English. By contract, hours would not exceed 18 hours a week of training and the average training hours would be from 8-12 hours. Salary ranges from 14,000 RMB - 16,000 RMB depending on experience.

The position is an excellent training ground for those willing to develop skills as company trainers and curriculum developers. Trainers are trained extensively in needs analysis, curriculum design, and systems development. The academic side is run by expatriates and all office staff are bilingual.

Part time Trainer

Excelliance, a leading provider of tailor-made company training, is currently seeking part time trainers to work in Shenzhen and neighboring cities. Prospective recruits would be responsible for developing course material and conducting training in business English. Compensation totals between 200-250 Rmb per hour with travel costs being reimbursed.?
Contact Info:
¡¡¡¡ Contact: Ms.Jessie Feng
¡¡¡¡ (Program Manager of International Cooperative Center)
¡¡¡¡ E-mail:Jessie@anesl.com
¡¡¡¡ Tel: +8610-51663658

About ShenZhen city: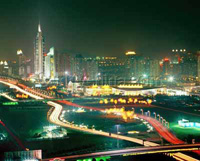 Shenzhen is situated in the southern province of Guangdong bordering Hong Kong. Guangdong is China's most affluent province. Its inhabitants, the Cantonese, are renowned for their unique dialect, excellent cuisine and business acumen. Cantonese culture is dominant in overseas Chinese communities as the people of Guangdong emigrated in high numbers in the 19th century.
Although present-day Shenzhen is a recent phenomenon, there has been some form of settlement in this area for thousands of years. During the late Ming dynasty Shenzhen, or Bao'an County as it was then known, was a small border town. The name "Shenzhen" means "deep ditch," probably a reference to the narrow but deep rivers that are common in the area. It could also allude to the deep ditches that traverse paddy fields.
In 1980, Shenzhen became China's first Special Economic Zone and its fate took a dramatic turn. Deng Xiaoping, the unofficial patron saint of Shenzhen, decided to put his ideas on economic reform to the test in what was then a rural area, and the results were truly remarkable. The city expanded swiftly. Infrastructure appeared at a lightning pace and skyscrapers shot up at "Shenzhen speed" i.e. three floors per day. Within the first 15 years the industrial revenue of the city increased a thousand-fold.
Shenzhen's fortunes are inextricably linked to its geographical location. Bordering the Hong Kong SAR, it functions as a sort of gateway for the world's fastest growing economy. Shenzhen brings in more in export revenue than any other city in China and its largest international trading partner is Hong Kong. Consequently, thousands of Hong Kong businesses have moved or expanded their operations into Shenzhen and everyday Hong Kong's residents cross the border to shop, eat and drink. Some even live in Shenzhen and commute to work in Hong Kong each morning. This high-level economic integration has fuelled speculation about future possibilities of administrative integration, but for now the two cities remain separate yet closely linked
Shenzhen's economic fame has drawn millions of migrants from China's hinterland. The city captures the imaginations of the rich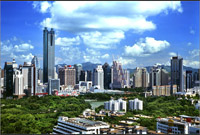 and the poor, the ambitious and the desperate. Everyday newly arrived hopefuls can be seen stepping off trains and long-distance buses, eager to get as big a slice of the pie as they can. In the meantime, Shenzhen is moving from an economy heavily based on textiles, light-industry and services and pushing itself into the high-tech sector. The phenomenal success of the last 25 years shows no sign of waning. For Shenzhen, history has only begun.
Being China's wealthiest and one of its youngest cities, the fact that it exists is a true reflection of the extent of the economic metamorphosis that China has been experiencing since the 1980s. Where there was a small fishing village 25 years ago, a metropolis of around 10 million people now stands. From the laid-back resort feel of Shekuo to the teeming hustle and bustle of Dongmen, Shenzhen is both glitzy and seedy at the same time. Arguably, there is nowhere that the excesses of rapid economic change that are gripping China, with the resultant rampant consumerism and extremes of wealth and poverty, are more evident.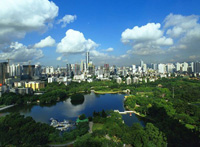 Locals will sometimes complain that the city's cultural attractions don't match up to its status as a major financial centre. True, Shenzhen has by no stretch of the imagination next to near the cultural draws of China's older cities. After all, it is a new city. This lack of culture is somewhat made up for by its tremendous energy and spirit, which derive from the diversity of its population, 90% of whom comes from other parts of the country. The full plethora of China's accents and dialects can be heard on the streets of Shenzhen and visitors can enjoy the culinary delights of every corner of this country in its restaurants. The city's migrant population injects it with an industrious vigour that is almost palpable in its lively shops, restaurants and clubs, which stay open and busy late into the night.
This "spirit" is easily lost on travellers who pass through Shenzhen on their way to other destinations. At first glance the city may not hold much appeal. However, if you venture away from the train station and explore its streets and alleys, you might just discover, behind the glow of the neon, the plush shopping malls and the unabashed commercialism, a unique city is taking shape.