Brief Introduction to Tonghua No.13 Middle School

The name of our school is Tonghua No.13 Middle School situated at the foot of the Changbai Mountains ,which is a world famous beautiful scenery constantly visited by tourists from all over the world .The Heavenly Lake is located at the top of the main mountain.
Besides ,our neighbouring city Jian is also noted for its most beautiful historical places of interest. Our school was established in 2000 and has been quickly developed in recent years .There are now more than 20 foreign teachers teaching English .They come from the U.S.A. Britian ,Canada ,Australia etc. We have distributed foreign teachers to surrounding cities and counties such as Liaoyuan city,Dongfeng country, Dongliao country , Baishan city, Meihekou city and so on . The students and pupils our foreign teachers have taught English amount to over one hundred thousand students .We have organized English ¨Cspeaking competitions among the pupils and students having been taught by our foreign teachers .This has caused the fantastic enthusiasm of the students and their parents and relatives ,who have spoken highly of our English teaching result ;The newspaper men made a special report on the English speaking ability of the pupils .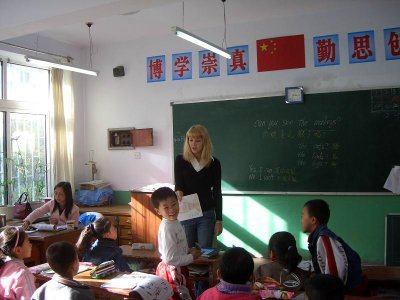 We have been authoriged by the provincaial government to set up this organization to conduct the advertising for foreign teachers and distribuling them to various schools of various cities,counties and towns .We have been granted all the necessary government cerlificates .We have offered comfortalle teaching and living circumstances .Every foreign teacher is supplied with an apartment with necessary furniture and utilities .Their salary is paid on time never delayed .We often hold parties for foreign teachers to enjoy .