Brief Introduction to Wuxi Institute of Technology (WXIT)
Wuxi Institute of Technology (WXIT), founded in October of 1959, is an independent and full-time public higher vocational institute, which was authorized by the National Education Ministry and is under the jurisdiction of Jiangsu Education Office. In 2003, WXIT got the titles of ¡°National CNC Urgently-needed Talents Cultivation Base ¡± and ¡°Jiangsu Cultivation and Training Base for Urgently-needed Talents of Automobile Technology¡±. Moreover, WXIT has successively won the titles of ¡°National Advanced Institution of Vocational Education¡±, ¡°Advanced Institution of Jiangsu Vocational Education¡±, ¡°Advanced Institution of Jiangsu Graduate Employment¡±, and so on. In December of 2006, WXIT has been authorized by the Ministry of Education and Ministry of Finance as one of the first group of twenty-eight colleges of ¡°Constructing Institution of National Higher Vocational Model College¡±.
WXIT is located near the beautiful Tai Hu Lake, and it occupies an area of 860 Mu with a building area of 216,000 square meters. At present it has about 10,000 full-time students living and studying on campus and there are other 3,000 students in the city of Wuxi receiving part-time training at our institute every year.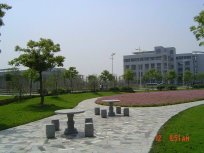 WXIT has set up 10 academic departments, namely the Department of Machinery, the Department of Automobile Engineering, the Department of Electro-mechanics, the Department of Automation, the Department of Electronics Engineering, the Department of Business and Management, the Department of Computer Science, the Department of Fundamental Education, the Department of Continuous Education & Training and the Department of Practice & Training. The setting of the institute¡¯s majors mainly focuses on the backbone industry of Jiangsu¡ªmanufacturing. Therefore a major set of departments has been created focusing on the industry chain. All of these programs adapt themselves to the manufacturing industry-chain including core industries, relevant industries and additive industries. Among them, CNC Technology Application and Automobile Technology and Service are the National Key Majors, Modern Electric Technology is the Provincial Demonstrative Major, and the specialties of Mold and Die Design and Manufacturing, Computer Science and Technology and Marketing are Provincial Featured Majors. Electro-mechanical Automation and Robot Technology are Key Majors within the institute.
In 2003, WXIT became the first affiliate member of the American Association Community Colleges for International Development (CCID). In 2005, WXIT started the joint-education program of ¡°International Business (Global Marketing)¡± with TAFE Southwestern Sydney Institute, Australia. Still, WXIT is on the march of upgrading the internationalization of vocational education to the next level.