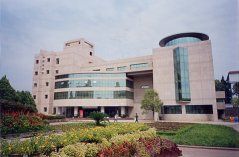 International Academic Exchange Center
  This University is under the Provincial Educational Commission and the Ministry of Finance of P. R. China. It was founded in 1923 and it is now a comprehensive university focusing on economics and management, and it also includes disciplines in law, technology, humanities and science.
  The origin of the university can be traced back to the Jiangxi Provincial Business School, which was founded in 1923. In 1958, it became an accredited university.
  The university is situated by the Ganjiang River, a tributary of the Yangtze River, and is north of Nanchang, a historically famous city, which has traditionally been regarded as a city of treasure and the home of many outstanding historical figures. It is also boastful for its abundance of scenic attractions, such as Poyang Lake, Lushan Mountain, Jinggang Mountain, Mei Pass, Dragon-tiger Mountain, Sanqing Mountain, and many others.
  It has nine schools, two direct departments, two teaching sectors, one economic research center and one MBA center. It has nine key disciplines and disciplines under development of both national and provincial level. It has been approved by the Degree Awarding Committee of the State Council to confer Doctorate, Master and Bachelor Degrees. It is one of the 64 universities in China entitled to offer MBA programs and among the 28 universities authorized by the Degree Awarding Committee of the State Council to conduct Sino-foreign joint education programs. There are 21,000 registered students in the university and over 650 teachers, of whom 300 are either professors or associate professors, and 90 are doctorate and master advisors.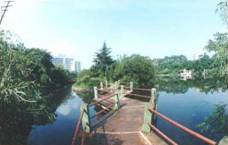 With its ever-expanding international cooperation and academic exchanges, the university has established sister university relationships with a large number of universities from all over the world, including the United States, Austria, Germany, Australia, Finland and the United Kingdom. A wide range of programs are carried out on a regular basis, such as guest lectures, joint research projects, student and scholar exchange, selecting young teacher to further study abroad, joint MBA, MPA program, international summer university and international conference.
  In the past 79 years, the university has produced over numerous graduates for the country. Many of them are now serving as the backbone in government agencies, education and research institutions, and industrial and business enterprises across the country. There are also many that are furthering their studies and careers abroad.
  The university has three campuses. The smaller one is located in the downtown area of Nanchang City, the main campus is six kilometers away from the city proper and the third campus is under construction. The total area covers more than 510,000 square meters and includes 310,000 square meters of building space.
  Situated on a brilliant land with a splendid culture, the university is oriented towards the world and towards the future.
Introduction to Jiangxi Province
  Jiangxi Province lies in southeastern China and along the southern bank of the middle Yangtze River. At a latitude between 24 29'14'' and 30 04'44'' N, and a longitude between 113 34'36'' and 118 28'58'' E. Jiangxi borders Zhejiang and Fujian to the east, Guangdong to the south, Hunan to the west and Hubei and Anhui to the north.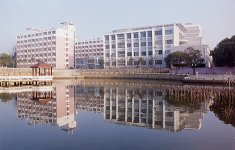 Graduate Department Center
  Jiangxi Province is in the shape of a leaf, about 620 kilometers from south to north and 490 kilometers from east to west. Surrounded by mountains on three sides and facing the Yellow River on the other, it has rolling hills and broad plains. The land gradually slopes from south to north, leading to the largest fresh water lake in China, Poyang Lake, which forms a large , open basin.
Within Jiangxi Province are various land forms, with mountains and hills dominating. The dominant mountain ranges are distributed along the border areas. The mountains in Jiangxi not only attract tourists with their steep cliffs, hanging waterfalls, running springs, sea of clouds, misty peaks, cool summer resorts and beautiful scenery, but are also home to dense bamboo groves and tropical forests. These mountains provide rich mineral and water resources, a reliable material base for Jiangxi's economic development.
  Jiangxi has more than 2,400 rivers of various sizes. Of course, 160 have water all year. The rivers have a combined total length of about 18,400 kilometers. The five major waterways are the Ganjiang, Fuhe, Xinjiang, Xiuhe and Raohe rivers. The Ganjiang River winds south to north along 751 kilometers. The river's drainage basin covers 83,500 square kilometers. Because of its massive size, the province is called "Gan" for short.
  Jiangxi is dotted with numerous lakes. Poyang Lake is the most famous. It ranks first among China's five largest fresh lakes. Its huge volume of water acts as a transfer station linking the five major rivers with the Yangtza River and then to the Pacific Ocean.
  Close to the Tropic of Cancer, Jiangxi has distinct seasonal changes. Due to its special topography, it has short springs and autumns, lasting only two months, and four-month-long winters and summers. The weather in spring is ever-changing. A rainy season joins spring with summers. Summers are hot and dry, and winters are cold and dank with a short frost period. There is a difference of 5.5 degrees latitude between the southern and northern tips of the province.   Consequently, the climate in southern and northern Jiangxi differs by one solar term. Jiangxi has a warm climate, with an annual average temperature of from 16.2 to 19.7 degrees Celsius. The free-frost period lasts from 241 to 304 days, and the annual sunshine average 1,473 to 2,077 hours. The province enjoys plentiful rainfall, with a annual mean precipitation of 1,341.4 to 1,934.4 millimeters. The total reaches about 267 billion cubic meters. This makes Jiangxi a leader among China's provinces and autonomous regions in annual rainfall. The subtropical moist climate is favorable to agricultural development.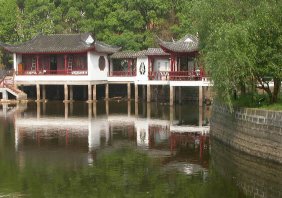 Lovely View on the Campus
  With an area of 166,900 square kilometers, Jiangxi is divided into five prefectures and six cities directly under the provincial government and its total population was 41.05 million.
Jiangxi has constructed a comprehensive transportation network composed of railways, roads, water routes and air routes, linking all parts of the province.
  Railways play an important role in Jiangxi's transportation, especially in terms of long-distance travel and cargo handling. The trunk lines of the Beijing-Kowloon, Zhejiang-Jiangxi, Yingtan-Xiamen, Nanjing-Nanchang, Xiangtang-Ji'an, and Wuhan-Jiujiang, as well as over ten branch lines crisscross the province.
  Jiangxi's highways play a big role in short and mid-distance travel and urgent goods transportation. In Jiangxi, there are six national roads—No.105, No.206, No.316, No.319, No.320 and No.323, and about 100 provincial roads and roads between countries and townships. With the provincial capital Nanchang as the center, the national roads serve as a framework, the provincial roads as arteries, and the roads between counties and townships as branches. They constitute the network spanning the entire province and linking Jiangxi with the six bordering provinces.
  Water routes are a major avenue of transportation goods in large quantity and to the seaports. The Ganjiang, Fuhe, Xinjiang, Raohe and Xiuhe rivers form as veins of a leaf radiating across the entire province, then converge into the Poyang Lake and finally flow into the Yangtze River. Water transportation follows the water flow from Poyang Lake to each port of the Yangtze River, accessing the cities of Wuhan, Chongqing, Nanjing and Shanghai, as well as Japan, and the countries and regions of Southeast Asia and the world.
  The Jiujiang Port, with 24 kilometers of coastline in the urban areas, offers goods distribution and collection, passenger transfer and special services for factories, mines and enterprises. It has now opened to foreign ships. With the Beijing-Kowloon Railways opening to traffic, the transportation condition in Jiujiang port will continue to improve. It is expected to become the second largest river delta port on the Yangtze River, with Nanjing remaining the largest.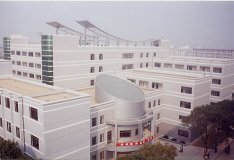 The 5th Classroom Building
  Changbei airport is the main gateway to the province from the air. It boasts advanced facilities for jumbo jets, such as the Boeing 737, and convenient communication services. Scheduled daily flights link Nanchang with Beijing , Shanghai, Guangzhou, Wuhan, Xi'an, Chengdu, Fuzhou, Xiamen, Shenzhen, Haikou, Zhuhai, Wenzhou, Nanjing and HongKong. So it takes 2 hours by plane and 13 hours by train to Beijing, 1 hour by plane and 12 hours by train to Shandhai and 2 hours by plane to HongKong.
Requirement and Offerings for Foreign Experts in This University

  Requirement:
1. English Native speaker
2. Male or female
3. Age limit: 60 years. Applicants should be in good health.
4. Personality: Interested in Chinese culture and language;
a passion for teaching, dedication to students;
Friendly manner.
Open-minded and good communicator.
Easy going.
  Qualifications:
1. Bachelor's degree in any discipline. However, an English or Education degree is considered very desirable.
2. RSA CELTA diploma (e.g.TESL):Pass at C grade or above
3. Royal Society of Arts – Certificate of English Language Training to Adults. Minimum 2 years experience.
4. Work experience in any area is desired.
5. Experience in managing large classes (say 50 students). Sliding pay scale according to the number of students
Working contract: one year (minimum)
Working hours per week: 20 hours including 16 hrs of contract work and 4 hrs of overtime work
Possible courses: Four key disciplines(listening,speaking,reading and writing) at undergraduate level, post-graduate and at PHD. Range of students are from intermediate or pre-advanced level.
  Our offerings:
1. salary:
4,800 for Bachelor Degree holder;
5,000 for Master's Degree holder and
5,500 for Doctor's Degree holder
2. return air tickets
3. 2,200 Yuan travel allowance
4. university staff medical care
5. free accommodation. An apartment with bedroom, living room,
kitchen and bathroom, facilities like bedding, TV set, computer with internet access, air conditioner, telephone with international dialing, refrigerator, washing machine, microwave, etc.
  Benefits
1. overtime pay with overtime work, 100yuan/hour
2. free transportation once a week for shopping in the city center
3. 500yuan per month for your electricity allowance
4. support from the foreign affairs office
Documents required for the teaching position in This University
  This University needs 10-12 foreign experts every academic year, starting around mid September. The recruitment is processed year around on a regular basis. You can apply from mid February to the end of May.Please prepare the following documents:
1. Resume
2. Copies of the highest academic certificate
3. Two recommendation letters from your university or former working institution
4. Copy of the passport with personal information
5. Physical examination record for foreigners
service of Party B
______________ as__________________ . The
two parties, in a spirit of friendly cooperation, agree to sign this con­tract and pledge to fufil conscientiously all the obligations stipulated in
it.
II. The period of service will be from the
___________ day of
_____________, 20
__________ to the_______ day of_______ ,20
__________.
III. The duties of Party B (see attached pages)
IV. party B's monthly salary will be
¥
_____ Yuan RMB,
_______
% of which can be converted into foreign currency monthly.
V. Party A's Obligations
1.Party A shall introduce to Party B the laws, Decrees and relevant regulations enacted by the Chinese government, the Party A's
work system and regulations concerning administration of foreign experts.
2.Party A shall conduct direction, supervision and evaluation of Party B's work.
3.Party A shall provide Party B necessary working and living conditions.
4.Party A shall provide co-workers.
5.Party A shall pay Party B's salary regularly by the month.
VI. Party B's Obligations
1.Party B shall observe the laws, decrees and relevant regula­tions enacted by the Chinese government and shall not interfere in China's internal affairs.
2.Party B shall observe Party A's work system and regulations concerning administration of foreign experts and shall accept Party A's arrangement, direction, supervision and evaluation in regard to his/her work. Without Party A's consent, Party B shall not render service elsewhere or hold concurrently any post unrelated to the work agreed on with Party A.
3.Party B shall complete the tasks agreed on on schedule and guarantee the quality of work.
4.Party B shall respect China's religious policy, and shall not
conduct religious activities incompatible with the status of an expert.
5.Party B shall respect the Chinese people's moral standards and customs.
VII. Revision, Cancellation and Termination of the Contract
l. Both Parties should abide by the contract and should refrain from revising, canceling, or terminating the contract without mutual
consent.
2.The contract can be revised, canceled, or terminated with mutual consent. Before both parties have reached and agreement, the
contract should be strictly observed.
3.Party A has the right to cancel the contract with a written notice to Party B under the following conditions:
(l)Party B does not fulfil the contract or does not fulfil the contract obligations according to the terms stipulated, and has failed to
amend after Party A has pointed it out.
(2)According to the doctor's diagnosis, Party B cannot resume normal work after a continued 30 day sick leave.
4.Party B has the right to cancel the contract with a written notice to Party A under the following conditions:
(l)Party A has not provided Party B with necessary working and living conditions as stipulated in the contract.
(2)Party A has not paid Party B as scheduled.
VIII. Breach Penalty
When either of the two parties fails to fulfil the contract or fails to fulfil the contract obligations according to the terms stipulated, that is, breaks the contract, it must pay a breach penalty of US $ 500to 2,000(or the equivalent in RMB).
If party B asks to cancel the contract due to events beyond control, it should produce certifications by the department concerned, obtain Party A's consent, and pay its own return expenses; if Party B
cancels the contract without valid reason, it should pay its own return expenses and pay a breach penalty to Party A.
If Party A asks to cancel the contract due to events beyond con­
trol, with the consent of Party B, it should pay Party B's return ex­penses; if Party A cancels the contract without valid reason, it should pay Party B's return expenses and pay a breach penalty to Party B.
IX. The appendix of this contract is and inseparable part of the
contract and has equal effect.
X .This contract takes effect on the date signed by both parties and will automatically expire when the contract ends. If either of the two parties asks for a new contract, it should forward its request to another party 90days prior to the expiration of the contract, and
sign the new contract with mutual consent.
Party B shall bear all expenses incurred when staying on after the contract expires.
XI. Arbitration
The two parties shall consult with each other and mediate any disputes which may arise about the contract. If all attempts fail, the two parties can appeal to the organization of arbitration for foreign experts affairs in the State Administration of Foreign Experts Affairs and ask for a final arbitration.
This Contract is signed at
_________________ , in duplicate,
this
________ day of ______ , 20_____ , in the Chinese and languages, both texts being equally authentic.
(Signature) (Signature)
Appendix
Party A: This University
Party B: ________________________
I.

About Teaching Affairs
1.
The regular workload will be 16 hours of classroom teaching from Monday to Friday per working week. The schedule for the first semester is from_______to
_________.
2.
The schedule for the second semester will be drawn up and issued at the end of the first semester
In your case, you will teach _____________ for__________.
Working institution:
Contact person:
Contact information:
Regular working hours per week: 16
Extra working hours:
3.
The textbooks are offered by Party A. According to Party A's teaching goals, Party B should use effective teaching methods, considering the particular English abilities of the students, to fulfill the task. Party B can provide some supplementary reading material to the students when necessary.
4.
The detailed teaching plan and the syllabus are the responsibility of Party B and should be in harmony with the above objectives. Party B is directly under the supervision of Party A in his teaching. Party A may adopt the suggestions made by Party B with regard to the teaching plan. Both parties should cooperate to enable work to be carried out smoothly.
5.
The average class size is 50. The specific class hours measurement table is as follows:
| | | | | |
| --- | --- | --- | --- | --- |
| Class Size | 1-50 | 51-60 | 61-70 | 71-80 |
| Class hours | N*1 | N*1.2 | N*1.4 | N*1.6 |
Note: N represents the originally assigned class hours.
Party B will therefore receive additional payment for teaching classes comprising more than 50 students. The specific bands are outlined in the table above. For example one hour spent teaching a class of 65 students will attract payment at 1.4 times the regular rate. This additional payment will be made twice per year at the end of each teaching semester.
II. About the Salary
1.
Party B's salary is----------, from------------to -------------, with paid winter vacation and public holidays mentioned in the item VIII-8
2.
The salary will be transferred directly to your bank account opened by FAO. Salary is paid regularly by month on the last day of each month. Party B must come to the office to confirm receipt of his salary by signature.
3.
Contact person: Ms. Cheng Chunfeng, accountant in Foreign Affairs Office (FAO)
4. Contact information: Tel: E-mail address:
5. In the case that Party A receives an updated teaching plan from the Teaching Affairs Office, Party B shall take extra working hours as required by Party A. 100 yuan RMB per hour will be paid for extra work. Additional working hours should be confirmed by the teaching institution for whom Party B teaches and the extra pay should be collected from the Foreign Affairs Office at the end of each semester.
III.

About the Income Tax
According to China's policy on personal income tax, any individual income exceeding 4000 yuan RMB is subject to income taxation and the appropriate amounts will be deducted from the salary of Party B according to Chinese tax regulations. Extra pay also needs to be taxed. Ms. Cheng helps to organize this at the end of each semester.
IV.

About Health Insurance
There is a hospital attached to the university on the campus and there are several public hospitals in Nanchang city. Party B will enjoy the same health insurance as Chinese teachers do. Patients should go to the university hospital first, but can move to specific public hospital in the city with a doctor's permission.
1.
In the university hospital: Party B shall pay 20% for the medicine and treatment
2.
In the public hospital in the city: Party B shall pay 25% for the medicine and treatment (paying 100% first in the hospital, with 75% refunded later by the foreign affairs office)
3.
In-patient care: Party B shall pay 10% for medicine and treatment (paying 100% first in the hospital, with 90% refunded later by the foreign affairs office)
4.
Medical expenses incurred in registration, doctors' home visits, fitting false teeth, dental cleaning, cosmetic surgery, buying spectacles, boarding in hospital and non-medical tonics, shall be covered by Party B without any refund from the foreign affairs office.
5.
During the period of the contract, medical expenses of Party B incurred in Taiwan, Hong Kong, Macao regions and outside China shall be covered by Party B.
1.
Party A will provide Party B with a furnished apartment on the university campus. This accommodation will be free of charge. Each apartment will contain a bedroom, living room, kitchen and bathroom. The facilities in the accommodation will include a computer with internet access, a television, a sofa, a bed with linen, a washing machine, a shower with hot water, a wardrobe, a fridge-freezer, air-conditioning units and cooking apparatus. Party A will provide Party B with a 24-hour supply of electricity, water and gas in the aforementioned apartment.
2.
Party A undertakes to adequately maintain the accommodation afforded to Party B and the facilities therein. All repair and maintenance work will be carried out by the qualified agents of the university without cost to Party B. Party B must refrain from carrying out any repair or maintenance work independently or without the consent of Party A.
3.
Party B should notify Party A as soon as possible of any defect or problem in the accommodation. Party A will then examine and rectify the problem. In the first instance Party B should inform Ms Liu or Ms Wang at reception of any difficulties that he has encountered with the accommodation.
4.
If Party B wishes to make cosmetic improvements to the apartment he should first submit the proposed alterations for Party A's consideration. Obtain consent and return the property to FAO before proceeding. All renovation work must be authorized by Party A.
5.
Upon completion or termination of the contract Party B will be entitled to remain living in his apartment for 15 days free of charge. If Party B wishes to remain in his apartment beyond the period of 15 days then he can negotiate with and obtain the agreement of Party A. Party A may levy a daily charge of 70 RMB upon any Party B who continues to reside in his apartment for a period exceeding 15 days from the date of the completion or termination of the contract agreement.
VI. Who pays and for what?
1.
The university pays for salary, travel allowance, 500yuan RMB of electricity allowance every month together with the salary, housing with necessary living facilities, electricity, water, internet access, local telephone bills, physical examinations, resident permit, and the re-entry visa into China during Party B's working period.
2.
Party B has to pay the bill for long distance telephone calls including both domestic and international long distance calls. The telephone bill is offered by the telephone company every month and should be paid monthly. Party B pays for electricity with the electricity allowance and the exceeding fee should be born by Party B himself/herself.
1.
When asking for sick leave, Party B should produce a doctor's certificate. Party B's salary shall be paid as usual if the sick leave is totals no more than 30 days. After 30 days of absence, if Party A does not terminate the contract, Party B shall receive 70% of his/her salary until the day he/she resumes regular work. Alternatively if after 30 days Party A asks to terminate the contract, Party A will consider paying a certain part of the expenses for Party B's departure from China.
2.
If Party B asks for leave of absence and obtains Party A's consent, a deduction in salary shall be made according to the number of days Party B is absent. During one academic year's period of contract, Party B should not ask for leave of absence for an accumulative total of more than 10 days and should not ask for leave of absence for more than 3 consecutive days. If Party B is absent from his post without asking for leave and Party A's consent, a deduction of 3 days' salary will be made for each day Party B is absent.
3.
If Party B is sick for one week, Party B should make up the lost classes for himself. If Party B is sick for more than one week and Party A attempts to find Chinese teachers to take his or her place, Party B will be responsible for the payment to those replacement teachers with the payment not exceeding 50% of Party B's original salary. The payment will be directly deducted by Party A from Party B's amount of salary according to the actual time during which Party B has been absent.
1.
The Contract and Appendix documents should be signed with the Director of Foreign Affairs Office within the foreign teacher's first month in Nanchang.
2.
Travel expenses are reimbursed twice a year (one way to China and one way back home) at the end of each semester which is around January and June. Travel allowances are paid twice a year (1,100RMB+ 1,100RMB) at the end of each semester which is around January and June. Travel allowances cannot be changed into foreign currency.
3.
70% of the salary can be converted into US$ twice a year at the end of each semester which is around January and June.
4.
For anything concerning foreign affairs like work visa, resident permit, re-entry visa, please come to foreign affairs office.
5.
For anything concerning living affairs in the guest house, please talk to the housekeeper.
6.
For anything concerning teaching affairs, please talk directly to the contact person in your working institution.
7.
Check and report 2 weeks in advance to foreign affairs office in case some documents need to be renewed. Make sure all the documents are valid.
8.
Public holidays during the academic year include 7 days for May Day and 7 days for National Day on Oct.1, 1 day holiday for the New Year, and 1 day off for Christmas Day. FAO can help to book ticket for holidays. Please report any travel requirement at least 2 weeks in advance.
9.
FAO can arrange car for private use, but Party B needs to pay. Transportation is free for shopping in the city once a week on Saturday morning.
10.
FAO provides printer for printing the original materials to be copied to the students, the students need to pay for the copy.
11.
Visitors to the guest house should register in the reception in the guest house. Visitors should leave the guest house before 10:30pm; Foreigners should be back to the guest house before 10:30pm during the work day. Girl students are not allowed to the guest house alone.