University View
Foreign Experts Working and Living at
This University
A Brief Introduction To This University

The University's campus is over 40 hectare. The area of schoolhouses is over 264 thousand square meters. The teaching equipment has been estimated 20 million Yuan, and the capital assets is 200 million Yuan. The library has a collection of 600,000 volumes of books, 1,216 kinds of periodical.
The University has teaching staff of 735; among them are 511 full-time teachers, 162 of which are professors or associate professors. 101 teachers have obtained Doctor or Master Degree; 120 of them are studying in different universities for their Doctor or Master degree. 7 foreign teachers and 38 part-time professors are working in our university.
The student's population number is 15000; among them are 8501undergraduates and associate-degree students, 6000 adult students. The University recruits students from Gansu, Shannxi, Hunan, Hubei, Sichuan, Shanxi, Jiangxi, Henan, Shandong, Neimeng, chongqing, Guizhou, etc.
The University has a provincial key specialty, 29 Bachelors-degree programs, covering art, science, law, economics, history, education and management, 26 associate-degree programs, including 13 teachers' education programs and 20 adults education bachelors-degree and associate-degree programs.
The University is composed of 10 schools, 22 departments, 5 research institutes of university's level, 18 research institutes of school's level and 9 science and engineering specialties. Both Beijing University and Shaanxi University established correspondence education stations in the University.
Through more than forty years practice, the university has formed its own characteristics: be geared to the needs of the poor areas, train and bring up qualified teachers who are willing to stay and teach in their hometowns; be realistic to the rich cultural heritage, tap the depth of the local culture; stand facing the battle field of economic construction, supply the local countryside and enterprises with intelligence support to help them shake off poverty, build up fortune and develop the economy
After struggling for decades, the university has made great achievements in many aspects. Many teachers have been awarded by the nation the title of "National Exemplary Teacher", 8 were awarded "Zeng Xianzi Education Prize".
Recent years, teachers have published more than 50 books, wrote about 60 teaching books and 1600 theses.
The international cooperation and exchange has made great achievements. In 2001, we established sister relationship with Wigan-Leigh College, and sent the first group of our 15 students there to study. In 2003, first group of foreign students came to our University for studying. In 2004, we established sister relationship with South Australia University.
The Introduction of Tianshui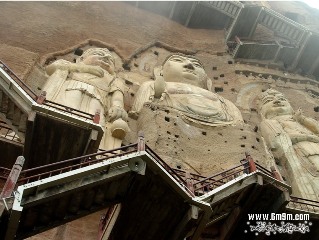 Buddha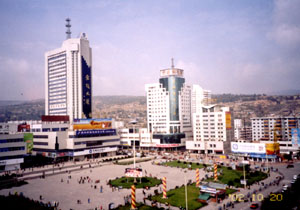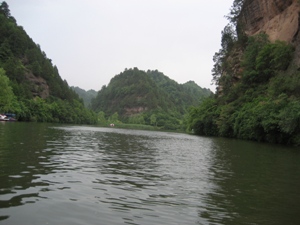 Immortal Cliff's Lake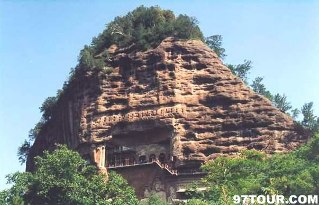 Maiji Mountain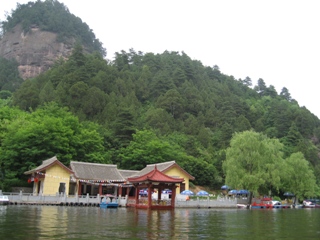 Immortal Cliffs

Travelling westward along the Silk Road in Gansu, the first place is Tianshui ,the historical famous cultural city of China. Tianshui , E105°41′ N34°14′ ,situated in the southeast of Gansu province, Bordering on Shanxi province in the east and neibouring on Sichuan province in the south, bordering on Ganlan in the west and on the Ningxia. It has been a vital communication place as well as an economic and culture exchange center from time immemorial. Tianshui covers an area of 14.3 thousand kilometers with a total population of 3.36 million , Tianshui lies in the dividing line of Yellow River and Changjiang River System . The altitude is 1000 meters. The hottest weather is in July and Aug. The highest temperature is 36.2 degrees centigrade . The coldest weather is in January and Feb. The lowest temperature is -14 degrees centigrade. The annual rainfall is 550 millimeters . The weather of Tianshui is slightly humid , with neither intense heat in summer nor severe cold in winter. Tianshui boasts an enchanting national treasure in the Silk Road.

Tianshui is one of the historical famous cultural cities in China, named Qinzhou in history. Tianshui is a birthplace of Chinese people and Chinese culture . The Dadiwan Neolithic site that our ancestors lived in this area 7800 years ago. Fuxi , Nuwa and Emperor Xuanyuan were all born in Tianshui , A long history has brilliant , cultures in Tianshui . Tianshui has 245 major relic . Tourism scenic places are 47 and 228 scenic spots , such as "Maij Mountain". "and "Water Curtain Cave . The Maiji Mountain Grottoes is one of the four most famous grottoes in China ,which has long been known as "the oriental sculpture museum .There are 50 ancient buildings, such as "Fuxi Temple" , "Nanguo Temple,". Tianshui boasts large numbers of historical sites . For example , there are "Jieting "Tianshui Pass .

Tianshui's people are hardworking ,honesty, friendly and warm-hearted . Warrmly welcome any foreign friend to Tianshui !

I. Party A wishes to engage the service of Party B ——as an English Teacher. The two parties, in a spirit of friendly cooperation, agree to sign this contract and pledge to fulfill conscientiously all the obligations stipulated in it.

II. The period of service will be from the 3day of September 2007to the­­15day of July2008.

III. The duties of Party B (see attached pages)

IV. Party B's monthly salary will be _3800_____ _RMB.

V. Party A's obligations

1. Party A shall introduce to Party B the laws, decrees and relevant regulations enacted by the Chinese government, the Party A's work system and regulations concerning administration of foreign experts and foreign teachers.

2. Party A shall conduct directions, supervision and evaluation of Party B's work.

3. Party A shall provide Party B necessary working and living conditions.

4. Party A shall provide co-worker.

5. Party A shall pay Party B's salary regularly by the month.

VI. Party B's obligations

1. Party B shall observe the laws, decrees and relevant regulations enacted by the Chinese government and shall not interfere in China's internal affairs.

2. Party B shall observe Party A's work system and regulations concerning administration of foreign experts and shall accept Party A's arrangement, direction, supervision and evaluation in regard to her work. Without Party A's consent, Party B shall not render service elsewhere or hold concurrently any post unrelated to the work agreed on with Party A.

3. Party B shall complete the tasks agreed on schedule and guarantee the quality of work.

4. Party B shall respect China's religious policy, and shall not conduct religious activities incompatible with the status of an expert and foreign teacher.

5. Party B shall respect the Chinese people's moral standards and customs.

VII. Revision, Cancellation and Termination of the Contract

1. Both parties should abide by the contract and should refrain from revising, canceling, or terminating the contract without mutual consent.

2. The contract can be revised, or terminated with mutual consent. Before both parties have reached an agreement, the contract should be strictly observed.

3. Party A has the right to cancel the contract with a written notice to Party B under the following conditions;

1). Party B dose not fulfill the contract or does not fulfill the contract obligations according to the terms stipulated, and has failed to amend after Party A has pointed out.

2). According to the doctor's diagnosis, Party B cannot resume normal work after a continued 30-day sick leave.

4. Party B has the right to cancel the contract with a written notice to party A under the following conditions:

1). Party A has not provided Party B with necessary working and living conditions as stipulated in the contract.

2). Party A has not paid Party B as scheduled.

VIII Breach Penalty

When either of the two parties fails to fulfill the contract or fails to fulfill the contract obligations according to the terms stipulated, that is, breaks the contract, it must pay a breach penalty of US*500 to 2,000(or the equivalent in RMB)

If Party B asks to cancel the contract due to events beyond control, it should produce certifications by the department concerned, obtain Party A's consent, and pay its own return expenses; If Party B cancels the contract without valid reason, it should pay its own return expense and pay breach penalty to Party A. If Party A asks to cancel the contract due to events beyond contract, it should pay Party B's return expenses and pay a breach to Party B.

IX The appendix of this contract is an inseparable part of the contract and has equal effect.

X This contract takes effect on the date signed by both parties and will automatically expire when the contract ends. If either of the two partied asks for a new contract, it should forward its request to another party 90 days prior to the expiration of the contract, and sign the new contract with mutual consent. Party B shall bear all expenses incurred when staying on after the contract expires.

XI Arbitration

The two parties shall consult with each other and mediate any disputes that may arise about the contract. If all attempts fail, the two parties can appeal to the organization of foreign experts' affairs in the State Administration of Foreign Experts Affairs and ask for a final arbitration.

This Contract is signed at____________, in duplicate, this ____day of ___2007, in the Chinese and English, and both texts being equally authentic.

Party A -----------------------------------------

Party B

----------------------------------------------



THE APPENDIX OF

STANDARD WORK CONTRACT FOR FOREIGN

CULTURAL AND EDUCATIONAL EXPERTS

The host institution and the foreign cultural and educational expert shall, when signing the appendix of the contract, comply with the provisions of Administrative Measures on the Salary and Living Treatment of Foreign Cultural and Educational Expert issued by State Administration of Foreign Experts Affairs and Ministry of Finance (Wai-Zhuan-Fa No.247(1996) and decide the salary and living treatment according to the concrete circumstances of the host institution and the foreign cultural and educational expert.

APPENDIX OF CONTRACT

I Work assignment
It will be arranged by the school of foreign languages study. Generally speaking, the work consists of two parts, in-classroom teaching and out-of classroom teaching. Out-of –classroom teaching refers to English corner or English club.

II The salary treatment

1. Direct payment

Monetary salary is___3800__ RMB/month. The pay period will start from the 3 day of September, 2007. Shall any work days are less than one month. The pay will be calculated by actual work day.The daily wage shall be 1/30 of the monthly salary (the same with February). The employed party shall pay the personal income tax in accord with the Personal income Tax Law of the People's Republic of China.

The salary will be paid after work from 16 day to 20 day of each month.

2. Indirect payment

Party A, -----------------will guarantee the fundamental living conditions for the employed party in China:

1) Providing free flat with furniture, bedding, telephone, television, DVD, microwave, refrigerator, and toilet, heating and cooling facilities and cooking utensils.

2) Helping Party B to buy personal accident insurance, and party B should pay for the insurance expenses.

3) Providing all possible assistance to Party Bwho is sick, and meet the medical costs within ¥400RMB each semester. Party B should receive medical treatment in the hospital foreigners appointed by Party A; otherwise, Party B shall cover the expenses. Expenses for registration, transportation for medical care, tooth inlaying, face lifting, massage, glasses, meals in hospital, tonics not for medical purpose, and doctor's house calls shall be covered by Party B.

4) Providing ¥1,100 RMB or equivalent each semester as the travel allowance within China to Party B. (If Party A organizes tour trip for Party B, the travel allowance will not be paid by cash).

5) The in-country transportation fee: Beijing←→Tianshui return train tickets fare reimbursement.

The international air fare: international economy class round air tickets for the nearest distance from

China

to

. (please fill in the state where you live in)

The international one way airfare reimbursement is no more than 8000 Yuan RMB or equivalent foreign currency.

6) Party B should prepay 200 USD or 1600 Yuan RMB for procedure fee toParty A. When Party B arrives and works inPArty B, 200 USD or 1600 Yuan RMB will be refund within 20 days.

7) Party B should pay for the bills of telephone.

8) Party Bshould charge all the official documents to work in China, including visa, resident card, work card and foreign expert card.

III Work Time, Rest and Holidays

1. The work time of the employed party shall be 16 hours in-classroom teaching every week and 2 hours out-of –classroom teaching, and 5 days every week. (Please note that before or after the long holiday (National holiday or May holiday), the school will arrange all the teachers to make up lessons on the corresponding weekend, which will not be counted as overtime work).

2. If the host institution arranges overtime work for the party employed, it will pay the employed party a salary higher than that in normal work time according to legal standard.

3. The party employed is entitled to the following holidays and festivals in China:

New Year's Day, Spring Festival, May holiday for 7days, National holiday for 7days and other holidays stipulated by laws and regulations.

4. The party employed is entitled to the following festivals and holidays corresponding to their nationalities and religions:

Two days for Christmas ( 24th and 25th of December)

5. The Employed party is entitled to a paid winter vacation.

IV Sick leave and private affairs leave

1. Certificate from doctors for foreigners appointed by the host institution should be presented when the employed party asks for sick leave .If the sick leaves amount to less than 30 days within one contract term (one academic year), the party employed shall be paid with 100% of the salary. In case the leaves exceed 30 days, the host institution has the right to terminate the contract, or, if the contract is not terminated, the 70% of the salary will be paid until the normal work is resumed.

During the term of the contract, the medical care expenses of the employed party in the hospitals foreigners appointed by the local government during business errands shall be paid by the host institution; the medical expenses incurred during private travels shall be covered by the employed party.

During the term of the contract, medical expenses incurred in Taiwan province, Hong Kong SAR, Macao SAR and places outside China will be covered by the employed party.

2. Private affairs leave of the employed party shall be approved by the host institution. The host institution will deduct the salary by day. In the contract term (one year or one academic year), the private affairs leaves should not exceed 10 days .The continuous private affairs leave shall be no more than 3 days, and two days' salary will be deducted for each day thereafter.

In case of absence from work without the host institutions permission, 3 days' salary will be deducted for each day absent. For serious circumstances, the host institution has the right to terminate the contract and investigate the liability of the employed party for violation of the contract.

V. The Probation period of the Contract

The probation period of the employed party shall be 30 days. In the probation period, if the host institution finds out that the employed party is unfit for the assignment specified in the contract for reasons of health or professional ability, it has the right to terminate the contract.

VI. Confirmation and change of every term of the appendix of the standard contract must be stipulated in written form through negotiation between the two parties. Any oral agreement will be regarded as invalid.

This appendix has equal validity of the standard contract and comprises an integral part of the contract.

The signature of the host institution

The Signature of the employed party

----------------------------------------------

------------------------------------------------

Date:--------------------------------------

Date:-----------------------------------------

  If you are interested, you could also send your resume,copies of degrees, passport and general photos to E-mail:HR@anesl.com