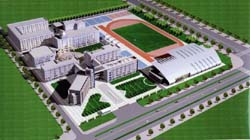 In the central section of circum-Bohai region lies the city of TangShan with Bohai Sea to the south, Yanshan Mountain to the north, Qinhuangdao City to the east, Beijing and Tianjin to the west and it watches North Korea over the Bohai Sea. Known as "The Treasured Land to the East of Beijing", Tang Shan is a famous costal city of heavy industry with a history of one hundred years.
Tang Shan is one of the top fifty cities in China. It is a centrally located city with mild weather and rich natural resources. The industry and agriculture of Tang Shan is highly developed, giving the city a sound economic foundation.
Tang Shan city has long been well known both domestically and abroad. It has a long and interesting history and its cultural heritage includes Ping and Tang style opera as well as modern day performing arts.
Tang Shan has a wide variety of tourist attractions and many of these are listed as world heritage sites. Attractions include Jing Zhong Mountain, Pan Jia Kou Reservoir, the submerged Great Wall, Shi Jiu Tuo Island and Jin Yin Tan beach which is conveniently located and ideal for swimming. The most famous scenic spot however would have to be the spectacular. Qing Tombs, the largest and best preserved Tomb site in all of China.
Tang Shan also has an excellent and highly developed transportation system. It is accessible by train, sea and highway. The highway network is of an international standard and is continually being improved.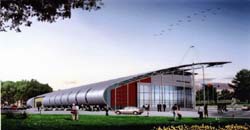 This Foreign Languages School has more than 40 years history . It is the key Middle School of Hebei Province.Its high teaching standards and resources make it a desirable school for students,parents and teachers alike. It uses the most modern techniques and equipment available including V.C.D players, computer rooms and language learning labs. The teaching style at This Foreign Languages School focuses on spoken as well as written language . Communication is the school's top priority and the employment of Foreign Expert teachers ensures it meets this aim. The school has also established close links with sister schools in countries such as England, Japan, America and Australia.
This Foreign Languages School continues to develop and grow and will always endeavour to provide top level education and a high class learning environment for all its students.
If you are interested, please send your Necessary Documents such as resume,copies of degrees, passport and general photos to E-mail: HR@anesl.com